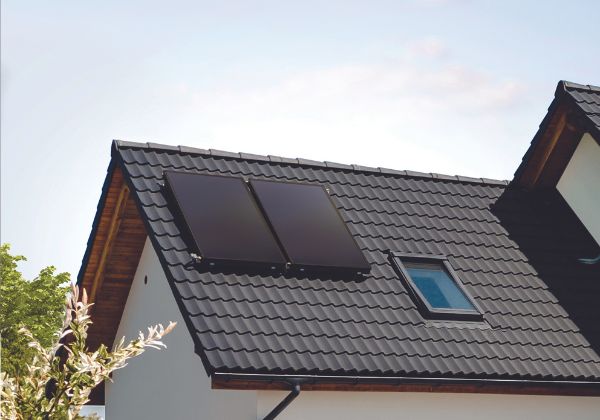 Possible application
Flat plate solar collector F TLP AC is designed for small houses as well as large solar thermal systems. Perfect for single-family homes and apartment-houses, as well as commercial, industrial and other buildings. They can also be used for heating pool water and to support central heating. The recommended inclination from horizontal is between 30 do 45° for optimum year-round operation. Mounting kits allow installation of collectors on various roofings, directly on the roof slope, as well as on building`s wall, flat roof and on the ground.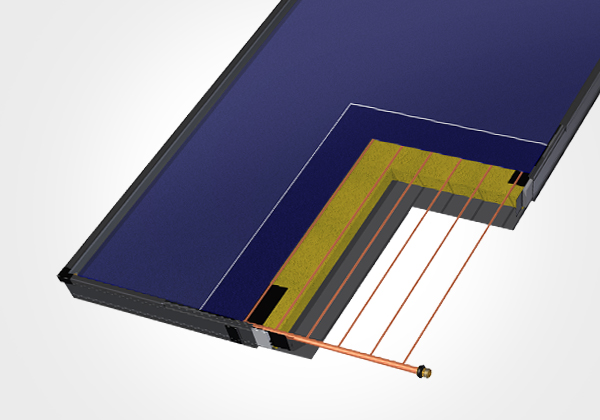 Good technical solutions and precise construction
Collector`s constructional solutions as well as production technologies are based on 30 years of experience – the longest on Polish market. In 2007 Hewalex was the first in Poland to introduce ultrasonic welding, which provides highest precision and quality of copper absorbers. Connection of absorber sheet with piping at a molecular level with no other additional binder is characterized by maximum mechanical strength and highest coefficient of heat transmittion. PVD coating`s characteristics are high absorption of solar radiation (95%) and minimum heat emission (5%)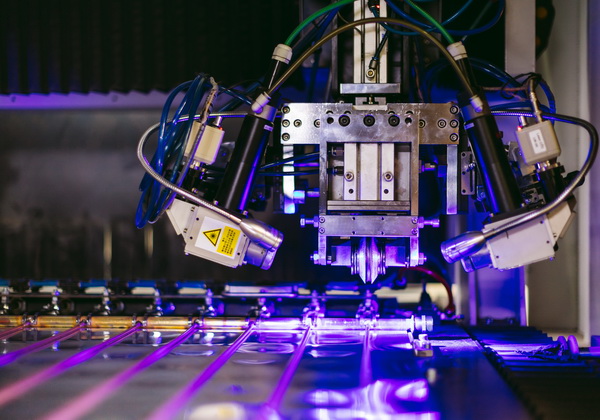 Standard 10 year warranty
Since the 1990s, Hewalex has been granting its Customers the longest warranties on the market for solar thermal collectors. The standard warranty for F TLP AC collector is 10 years. It is a direct warranty given by the manufacturer with a strong market position. Moreover, all of our production processes are carried out here, in Poland, which is important from after-sales and service point of view. All possible damages of solar collectors, such as the ones caused by force majeur, may be repaired in our production facilities at an acceptable cost.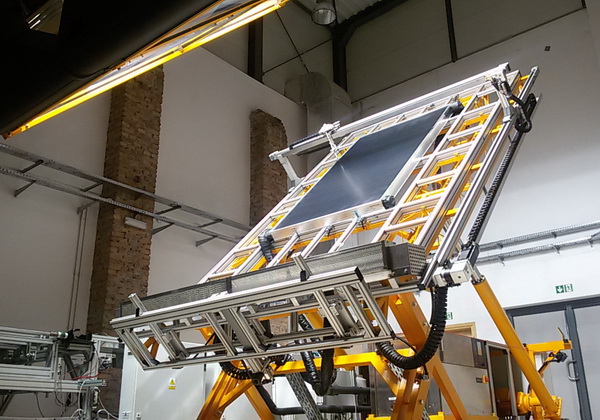 Why choose Hewalex as your solar thermal collectors manufacturer?
30 years of experience provide best quality
High efficiency proved by Solar Keymark
Particularly good relation of price, quality and efficiency
Energy from sun – the cheapest, easy to get
Technology and construction solutions well known on 40 export markets
Produktmerkmale
AUS ALUMINIUM UND KUPFER AUSGEFÜHRTER ABSORBER
Die Anwendung der Aluminiumplatte des Absorbers erlaubt die Reduzierung des Gewichts und der Erzeugungskosten des Kollektors und gleichzeitig die Aufrechterhaltung eines hohen Wirkungsgrads der Arbeit auf identischem Niveau, wie in Kollektoren mit kompletten Kupfer-Absorbern.
SELEKTIVE BESCHICHTUNG VOM TYP PVD (95% / 5%)
Die selektive PVD-Beschichtung zeichnet sich durch eine höhere Arbeitseffektivität aus, dank der Absorption von 95 % der Sonnenstrahlung und der minimalen Wärmeemission von 5 %.
SCHEIBE AUS ANTI-REFELXIONSGLAS (KLASSE X1)
Die im Kollektor F TLP ACR eingesetzte Scheibe zeichnet sich durch eine erhöhte Durchlässigkeit der Sonnenstrahlung (Transmissionsgrad) aus, dank der Anwendung zusätzlicher 2-seitiger Anti-Reflexionsschichten.
VOLLSTÄNDIGE WÄRMEISOLIERUNG DES GEHÄUSES
Das Kollektorgehäuse ist vollständig wärmeisoliert – sowohl der Boden des Gehäuses als auch seine Wände. Die Dicke der Wärmeisolierung sieht die Arbeit des Kollektors sowohl unter günstigen Bedingungen – in warmem Klima – als auch im kalten Klima vor.
GERINGER DRUCKVERLUST IM ABSORBER
Der Absorber im System der einzelnen Harfe zeichnet sich durch einen besonders geringen Durchflusswiderstand aus. Dies erlaubt den Einsatz der Kollektoren in Installationen mit größerer Entfernung zwischen Dach und Heizraum.
10-JÄHRIGE GARANTIE
Die Firma Hewalex erteilt bereits seit den 90er Jahren die längsten Garantiedauern auf dem Markt der Sonnenkollektoren. Die Garantie für den Kollektor F TLP ACR beträgt 10 Jahre.
Technische Spezifikationen
Optical efficiency (brutto)
Heat loss coefficient a1 (brutto)
Heat loss coefficient a2 (brutto)
Solar Keymark Certificate
KS2100F TLP AC
Optical efficiency (brutto)
Heat loss coefficient a1 (brutto)
Heat loss coefficient a2 (brutto)
Solar Keymark Certificate
KS2600F TLP AC
Optical efficiency (brutto)
Heat loss coefficient a1 (brutto)
Heat loss coefficient a2 (brutto)
Nr certyfikatu Solar Keymark: